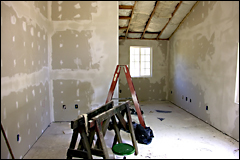 From 2004 through 2006, the housing boom and rebuilding efforts necessitated by various hurricanes led to a shortage of construction materials. As a result, U.S. builders and suppliers imported significant amounts of Chinese drywall, estimated to be enough to construct approximately 100,000 homes. A number of putative class action complaints and approximately 100 other state and federal complaints including counts for negligence, strict liability, breach of warranty, and violations of consumer protection acts have been filed alleging that the Chinese drywall emits gaseous emissions or "off-gassing" that creates a noxious "rotten egg-like" odor and causes damage and corrosion to home structural and mechanical systems such as air conditioner and refrigerator coils, copper tubing, faucets, metal surfaces, and electrical wiring. Additionally, the "off-gassing" is alleged to cause health problems, including allergic reactions, coughing, respiratory problems, sinus problems, throat infection, eye irritation, and nosebleeds.
Various federal, state, and independent agencies have done testing to determine the cause of the "off-gassing" but none have reached a final conclusion. On May 7, 2009, the U.S. Environmental Protection Agency's Environmental Response Team published a drywall analysis comparing a limited number of Chinese drywall samples from Florida homes to U.S. made drywall samples purchased from a Home Depot in New Jersey.
The EPA found significant differences between the Chinese drywall and the U.S. made drywall:
Sulfur was detected in the Chinese drywall but not in the U.S. drywall.
Strontium in the Chinese drywall was anywhere from twice to ten times the amount found in the U.S. made drywall.
Iron concentrations in the Chinese drywall were also significantly higher.
Notably, there was no evidence of fly ash found in the Chinese drywall samples or the U.S. samples.
However, the EPA has not issued a final report on the cause of the "off-gassing" and whether it causes property damage and personal injury.
On June 15, 2009, a special panel on multi-district litigation ordered cases involving Chinese drywall consolidated in the U.S. District Court of the Eastern District of Louisiana with Judge Eldon E. Fallon. The matters are also being closely followed by Florida Congressman Robert Wexler, an advocate for families adversely impacted by homes built with Chinese drywall.