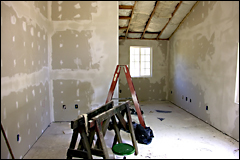 Defectively manufactured drywall has been in the news for the past two years. Recently, there have been a string of favorable rulings, verdicts, and settlement for those damaged by the defective drywall.
On May 10, 2010, in the case of Germano et al. v. Taishan Gypsum, Judge Fallon, who is presiding over the Multi District Litigation, entered a default judgment in favor of the plaintiff homeowners and awarded in excess of $2.6 million in damages against Taishan Gypsum Company. Presently, Taishan Gypsum is appealing the entry of the default judgment.
On May 10, 2010, in the case of Hernandez v. Knauf Gips KG, et al, Judge Fallon entered a judgment in favor of the plaintiff homeowners and awarded $164,049.64 against Knauf Plasterboard Tianjin Company, Limited, plus reasonable attorneys' fees, costs of the action, and interest from the date the judicial demand until paid.
Two other federal lawsuits filed against Chinese drywall manufacturer Knauf have been settled. The suits were brought by Paul Clement and Celeste Schexnaydre, who own a home near New Orleans, Louisiana, and John Campbell, who owns 21 contaminated apartments in Slidell, Louisiana. The agreements were reached following a June 18th conference with Judge Fallon. Knauf agreed to pay to remediate the homes, pay at least $25,000 to store furniture, pay for apartment rental while homes were rebuilt, pay at least $15,000 to replace damaged appliances and personal property, and pay attorneys' fees. Additionally, Knauf agreed to pay Campbell for lost rental income, and to replace and test the drywall in one apartment while negotiating about the remediation of additional apartments.
On June 22, 2010, in the nation's first Chinese drywall jury trial, a Florida jury found in favor of a homeowner and awarded $2.47 million against Banner Supply, which was found liable on the grounds of negligence, public nuisance and violation of Florida's Deceptive and Unfair Trade Practices Act. Banner was found 55 percent responsible. Under Florida law, non-defendants in the case were also apportioned responsibility: Chinese drywall manufacturer Knauf Plasterboard Co. was found 35 percent at fault, and a Chinese exporter and a Miami importer, were each held 5 percent responsible. The jury unanimously awarded the homeowners $494,443 for remediation costs; $9,984 for replacement costs for personal property; $169,268 for temporary housing costs and moving expenses; $20,775 for cleaning costs; $3,320 for additional utilities costs; $920 for storage costs; $6,651 for additional interest on credit cards; $1.7 million for loss of enjoyment; and $60,000 for diminution of the value of their house.
Finally, Lowe's Companies, Inc, the nation's second largest home improvement store chain has agreed in principal to a national settlement of claims involving defective drywall. Lowe's has agreed to pay $6.5 million (primarily in gift cards) to those affected by the defective drywall Lowe's sold. The amounts paid to each affected customer will depend upon the total amount of documentation, which should include proof of purchase, defects, and damages.
The Consumer Product Safety Commission has received a total of 3,296 complaints from homeowners in 37 states plus the District of Columbia, American Samoa, and Puerto Rico who claim to have been damaged by defective drywall made by a variety of companies. The cause of the problem is still highly debated and unknown by the various entities testing and inspecting the products. However, despite the unknown and debated cause of the defect, plaintiffs are prevailing against the manufacturers, distributors, installers, and sellers of the defective drywall.
For more information, please feel free to contact one of our offices.