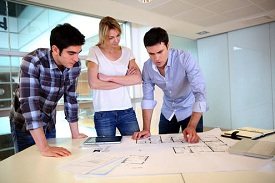 The California Supreme Court, in Beacon Residential Community Association v. Skidmore, Owings & Merrill LLP (2014) DJDAR 8787, recently held that an architect which serves as principal architect on a project owes a duty of care to future homeowners in the design of a residential building. Such architects owe that duty of care even when they do not actually build the project or exercise ultimate control over its construction.
The trial court had sustained a demurrer in favor of two architectural firms on the grounds that architects who made recommendations, but no final decisions on construction, owed no duty of care to future homeowners with whom they were not in privity of contract. The Court of Appeals reversed, concluding that an architect under those circumstances owes a duty of care under both common law and the Right to Repair Act.
In support of its holding, the Supreme Court, like the Court of Appeals, relied heavily on the factors set forth in Biakanja v Irving (1958) 49 Cal. 2d 647 and the Bily v. Arthur Young & Co. (1992) 3 Cal. 4th 370 decision. The Court summarized its opinion by outlining the following Biakanja factors: 1. Defendants' work was intended to benefit the homeowners living in the residential units that defendants designed and helped construct; 2. It was foreseeable that these homeowners would be among the limited class of persons harmed by the negligently designed units; 3. Plaintiff's members have suffered injury as the design defects have made their homes unsafe and uninhabitable during certain periods; 4. There is a close connection between defendants' conduct and the injuries suffered; 5. Significant moral blame attaches to defendants' conduct due to their unique and well-compensated role in the project as well as their awareness that future homeowners would rely on their expertise in designing safe and habitable homes; and 6. The policy of preventing future harm to homeowners reliant on the architects' specialized skills support recognition of a duty of care.
The key to the Beacon decision is that the architects were the principal architects on the project – i.e. their design work was not subordinate to any other design professionals. It is yet additional proof that the concept of privity, if not dead, has been eroded to the point of irrelevance.