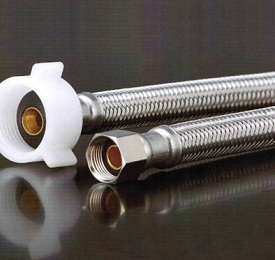 On August 5, 2014, a Class Action settlement has been reached with Watts Water Technologies, Inc. and Watts Regulator Co. ("Watts") regarding toilet Connectors with coupling nuts made with acetal plastic designed, manufactured, and/or distributed by Watts between 1999 and July 2009. The settlement covers the purchase and possession of a Watts toilet connector, as well as, payments made to repair property damage suffered as a result of the failure of a Watts toilet connector.
The Honorable William H. Orrick, of the United States District Court for the Northern District of California, is overseeing this Class Action. The settlement resolves the case Trabakoolas v. Watts Water Technologies, Case No. 3:12-CV-01172, which claimed that the acetal coupling nuts, instructions, and warnings on these Watts toilet connectors were defective. The lawsuit had claimed that Watts' negligence led to the failure of the toilet connectors. Watts denied all the claims and allegations in the lawsuit. Watts maintained that the acetal coupling nuts on its toilet connectors are not defective in any respect, that the failure rate is very low and that any failures are the result of other factors (such as improper installation, misuse, or product lifespan).
The Court did not decide in favor of Plaintiffs or Watts as part of the Class Action settlement. Rather, both sides agreed to settle the case to avoid the cost and risk of a trial. Watts did not admit any fault and continues to deny any wrongdoing. As such, the settlement of the Class Action does not mean that any laws were violated.
Under the Settlement Agreement, for payment of property damage due to failure, Settlement Class Members can recover up to 25% of documented costs of repairs for property damage caused by the failure of an acetal coupling nut of a Watts toilet connector, with a minimum recovery of $4. The Claims Administrator will review claims to determine whether they are eligible and timely and pay the amount of the claims. Claims for damage that occurred from January 1, 2009, to January 1, 2012, must be submitted and/or postmarked on or before August 5, 2015. Claims for damage that occurred after January 1, 2012, must be submitted and/or postmarked on or before August 5, 2019.
The Settlement Agreement provides precise and more detailed explanations of the benefits to members of the Settlement Class, as well as, specific documentation required to submit a claim. For more of these details, please check out the class action website at www.toiletconnector.com.