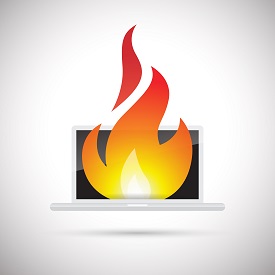 Despite over a decade of laptop battery recalls, one of the latest chapters in the lithium-ion fire hazard saga unfolded on June 23, 2016, when HP issued a sweeping recall of batteries installed in its notebook computers. The particular lithium-ion batteries subject to the recall, the company states, "have the potential to overheat, posing a fire and burn hazard to customers." The Consumer Product Safety Commission is currently advising owners of laptops containing batteries covered in the recall to stop using them immediately, remove the battery, and contact HP for a free replacement. The recall covers approximately 41,000 devices sold between March 2013 and August 2015. Models affected included the HP Probook, HP Envy, Compaq Presario, and HP Pavilion notebook computers.
This recall comes on the heels of an unprecedented string of recalls issued by HP over the last two months involving similar lithium-ion batteries. Over the first half of 2016, recalls of lithium-ion batteries installed in HP and Compaq laptop computers reportedly total over 200,000 units.  Since spring 2010, HP has reportedly received at least 40 reports of lithium-ion laptop batteries overheating and rupturing. Several of these incidents have caused personal injuries to owners and nearly all have resulted in property damage. A complete list of model numbers and battery bar codes associated with the ongoing recall can be found at the CPSC website.
The recent flood of recalls across the industry further solidifies the fire hazards posed by lithium-ion batteries. Claimants seeking damages from overheating batteries have an increasingly easier path to establishing a product defect and ensuing liability, especially if the specific lithium-ion battery is subject to a recall. But the window to pursue claims premised on a product defect or negligence theory may not stay open long. As time passes and more batteries are recalled, potential plaintiffs will begin to face the growing obstacle of comparative negligence for failing to timely respond to a prior recall. For now, claimants should remain cognizant of the relevant timeframe between the date of loss and corresponding product recall when evaluating liability.