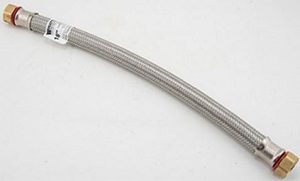 From the moment plumbing went indoors, there was the potential for water damage to buildings from faulty plumbing. And, the addition of appliances only increased the potential. But, what about the connection between the indoor plumbing and the appliance? The water pipes in a structure have to connect somehow to appliances that use water, like faucets, toilets, dishwashers and hot water heaters. These connectors are often times flexible connectors that allow for movement of the appliance for installation, maintenance and repairs. And, sometimes, these connectors are a vulnerable weak point in the water supply system resulting is major water leaks and significant property damages.
Watts Regulator Co. ("Watts") is a company that, in addition to many other things, makes products to connect water pipes to appliances. Recently, Watts was sued by class action plaintiffs over alleged defects with certain appliance connectors, including one that was branded in a way that would indicate it would keep the user safe from water damages – the Watts Floodsafe® connector. However, it appears that at least the class action plaintiffs in two recent lawsuits believed otherwise.
In the past two years, two separate class action product liability lawsuits were brought against Watts Regulator Co. in the United States District Court for the District of Nebraska in the past two years. Sharp, et al v. Watts Regulator Co., involves claims related to the Watts Water Heater connector product ("Water Heater Connectors"), and Klug, et al. v. Watts Regulator Co. involves claims related to the Watts Floodsafe® connector product ("Floodsafe Connectors"). Both of these cases have recently been settled, and the settlements apply to anyone who owns or owned (or leases or leased) a residence or other structure in the United States containing either a Watts Water Heater Connector or Floodsafe Connector after November 4, 2008. This settlement includes persons who suffered property damage and/or paid to repair property damage (including subrogated insurance carriers) caused by the alleged failure of these products.
The Floodsafe Connectors were designed and sold for use with faucets, toilets, washing machines, dishwashers and icemakers. A Floodsafe or Water Heater connected with a label that identifies Watts, Watts Regulator, Anderson Barrows, Savard, Everbilt, Ace Hardware, Wolverine Brass, Do-It-Best, Grainger, CalFlex, MainLine, Aqua-Flo, Belanger, Danco, Flexconnex, Diamond Back, Lincoln, Mabe, PlumbMaster, PlumBest, PurePro, Kenney, Electrolux or Kenmore may qualify if the connector has certain physical features. The physical features for the Floodsafe connector include a check valve on one side of the connector, and for the Water Heater connector they include a red disc near both ends of the connector.
The time to opt out of the settlement ends March 7, 2017. So, any effort by a potential settlement class member to opt out of the settlement, and be able to file litigation against Watts directly must be made immediately. After March 7, 2017, a settlement class member will be bound by the terms of the settlement.
Under the settlements, Watts has agreed to pay $14 million in total, $10 million into a settlement fund for Water Heater connectors and $4 million into a settlement fund for Floodsafe connectors. However, this fund will also be used to pay for notice, administration, litigation expenses, and attorneys' fees too. So, if a settlement class member intends to seek funds from the settlement, it would be best to act quickly in that regard as well.
Terms and information regarding these class action settlements, and photographs to help identify the related products, can be found at www.ConnectorSettlements.com.