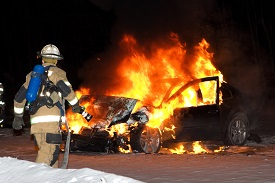 Earlier this month ABC news aired a special on what was characterized as an unusually large number of BMW fires across the country while the vehicles were turned off for hours if not days. ABC reported that they investigated over 40 parked car fires across the country over a five year span. Since ABC reported that the incidents involved vehicles not subject to any recall, consumer groups have been pushing BMW for an explanation. BMW responded that they had not seen any pattern of product defect issues with these fires and were critical of ABC for what it referred to as "sensationalist" reporting about cars catching fire. A link to the story can be found here.
Regardless of where one stands on the issue, this reporting makes for an appropriate time to discuss vehicle fire investigations in general. While certainly our antennas should go up whenever we see a pattern or increase in fire incidents from a particular make or model vehicle, subro professionals should always be careful to not be presumptuous in any investigation of a vehicle fire. We must be mindful that the reasons for a vehicle fire vary. Potential non-incendiary causes include product defect, improper service, maintenance issues, and after-sale alterations to the vehicle. When receiving a subrogation case involving a vehicle fire, subro professionals should work quickly to get appropriate experts on scene to investigate the vehicle and surrounding area before the vehicle is moved and evidence is potentially altered. Often critical evidence from the cause of a vehicle fie can fall from the engine compartment into the fire debris below the vehicle. Moving the vehicle for later examination should only be done after this debris has been examined and preserved. Subro professionals should also work with the vehicle owner to get as much information as possible on the service history of the vehicle. Was there any major work performed on the vehicle, or merely routine oil changes? Did the insured routinely use only one service company, such as the dealership where the car was purchased (allowing for the argument that only one entity ever touched the engine compartment), or did the insured have the vehicle serviced by multiple service companies? Locating an exemplar vehicle for comparison during a joint evidence examination may be helpful to your experts. And certainly a review of the National Highway Traffic and Safety Administration's recall website for vehicles should be examined, but a vehicle being on or off of this list should not be considered conclusive evidence that the fire was the result of a defect.
It is absolutely true that properly maintained vehicles should not suddenly burst into flames and justify a thorough investigation. Indeed the list of potential fire causing defects are car can have are significant, be it faulty ignition switch, faulty cruise control hexport, improperly designed or manufactured fuel line, or a myriad of other potential causes. In fact, in 2015 a record high of 51.2 million vehicles were recalled through 868 separate recall incidents. However, subro professionals should not get the cart before the horse and presume that a fire which started from the engine compartment will lead to a recovery.  As always, a thorough investigation should always be conducted.