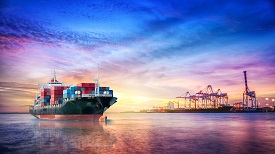 The United States Congress passed the Carriage of Goods by Sea Act in 1936. The purpose of COGSA was to establish a standardized set of definitions and rules to govern the terms and conditions used in ocean bills of lading. One of its key provisions, Section 4(5) limits a vessel's liability for lost or damaged cargo to USD 500 on a per "package" basis; however COGSA failed to define the term "package."
Generally, when a bill of lading unambiguously describes a unit of packaging that can be reasonably construed as a package, a court will accept the bill of lading's package definition as a COGSA package. Litigation issues arise, however, when bills of lading are unclear, imprecise, or ambiguous. Shippers and carriers have been heavily litigating this issue in the 80 years ever since COGSA was passed. Furthermore, inasmuch as it was written decades before the rise of containerized transport, COGSA simply does not address whether ocean containers themselves are "packages."
Typically, the Second Circuit, the leading circuit on this issue, did not recognize containers as packages. Beginning with Judge Friendly's pronouncement that containers rarely qualify as packages more than four decades ago, the Second Circuit views any claim that a container is a COGSA package with considerable scepticism. Monica Textile Corp. v. S.S. Tana, 952 F.2d 636, 1992 AMC 609, (2d Cir. 1991); Leather's Best, Inc. v. S.S. Mormaclynx, 451 F.2d 800, 1971 AMC 2383 (2d Cir. 1971) (Friendly, C.J.). As a result, courts following the Second Circuit's analysis will see little persuasive power in a bill of lading's boilerplate statement that ocean containers will be considered COGSA packages. See generally Monica Textile Corp., 952 F.2d 636. In addition to boilerplate pronouncements, the factual circumstances behind how individual items are "wrapped, bundled, or tied" inside the container will not, without more, sway courts following the Second Circuit to rule that ocean containers are COGSA packages. Mitsui & Co., Ltd. v. Am. Exp. Lines, Inc., 636 F.2d 807, 822, 1981 AMC 331 (2d Cir. 1981) (Friendly, C.J.).
Notwithstanding the foregoing, the Second Circuit has at times ruled that containers can be packages: "if the bill of lading lists the container as a package and fails to describe objects that can reasonably be understood from the description as being packages, the container must be deemed a COGSA package." Binladen BSB Landscaping v. M.V. Nedlloyd Rotterdam, 759 F.2d 1006, 1015, 1985 AMC 2113 (2d Cir. 1985). See also Peter Rosenbruch v. Am. Exp. Isbrandtsen Lines, 543 F.2d 967, 1976 AMC 487 (2d Cir. 1976), cert. denied, 429 U.S. 939, 1976 AMC 2684 (1976).
In an August 2017 decision in the SDNY, the rationale behind the "container=package" was again reiterated and upheld. In Mapfre Atlas Compania de Seguros S.A. a/s/o Tecnomega v. M/V Loa and Compania Chilena de Navigacion Interoceanica SA and Genshipping Corp., Docket 15 CV07876, (decision attached), District Judge Sweet looked at the Bill of Lading, and under the "No. of Pkgs." Column, the number "1" was clearly indicated. Next, looking to the "Description of Packages and Goods" column corresponding to that single package, the Bill of Lading said "1*40'HC Container S.T.C. [Said to contain]" with "989 Pieces Computer Parts." Since the Bill of Lading did not indicate how the computer pieces were packaged, the Court held that the container itself was one package and limited liability to $500.
Thus, in this case, the use of the word "pieces" had liability consequences amounting to thousands of dollars.