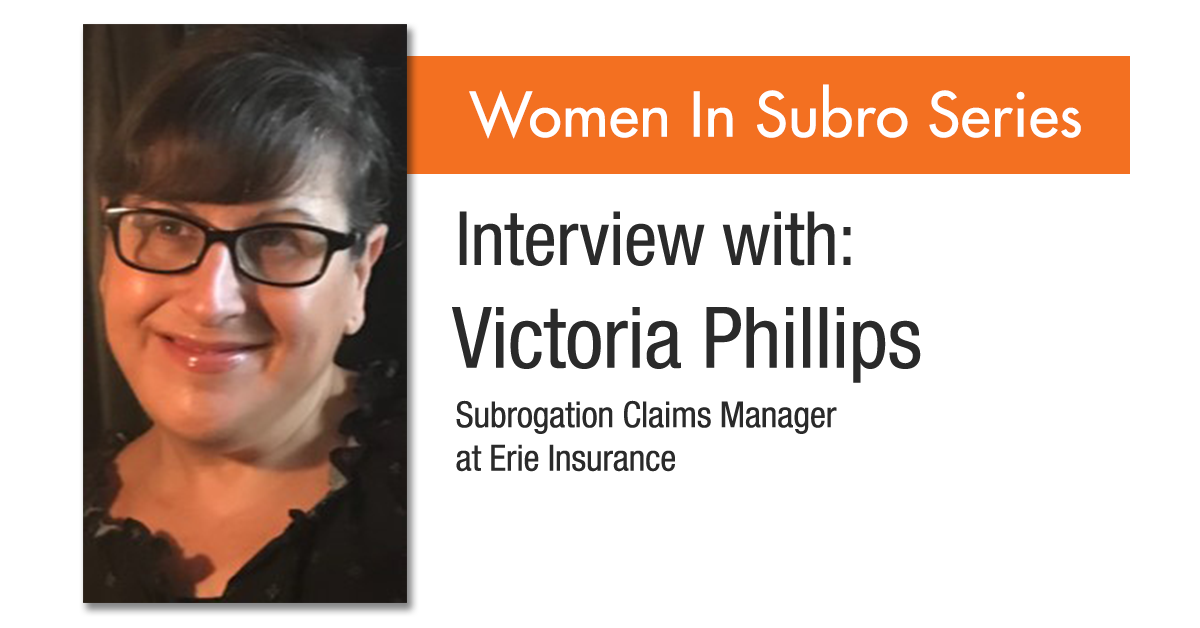 This Women in Subro blog series highlights powerhouse women in the industry while discussing leadership, management, and success in subrogation. In our interview with Victoria Phillips, Subrogation Claims Manager at Erie Insurance, she exuded enthusiasm for subrogation and education.
After 15 years in subrogation, Victoria still finds the excitement in the work and the continuous learning process subrogation provides. Victoria is a life-long learner and encourages educational opportunities to everyone on her team. She received a Bachelor's Degree in Communications from Penn State and is currently earning her MBA. However, she says that her biggest source of learning is from her team. Their feedback and collaboration on claims helps her develop further.
Q: How do you describe subrogation to friends and family?
A: Did you know it has a Latin origin? ("Sub" meaning "under" and "rogare" meaning "to ask.) For fun, I keep a printout of the dictionary definition at my desk. It is a simple substitution by one person for another (to stand in the shoes of another party), but no one really knows what it means except those of us that do it.
Q: What is exciting about subrogation?
A: There is never a dull moment. I deal in all lines of subro, but there is extra excitement in the large commercial explosions, complicated vehicle accident scenarios, and complex workers comp injuries related to product failures and defects. There is always something fascinating and chances to engage with your team.
Q: What is it about subro that catches your attention and keeps you interested?
A: The constant variety and the community. I am always engaged because there is always something new to learn, some new avenue for the industry to explore. Because of subro, I know many things about many topics- metallurgy, product failures, fire investigation, etc. It is fun getting all that knowledge and becoming a Jack of all trades and master of none.
I also see subrogation as a community. I have my team at Erie, vendors, trade organizations, and NASP. I stay engaged because of the amazing community of people in the industry.
Q: What is the hardest part of your job?
A: Those rare times when we can't recover the money on a big case despite doing everything possible and pursuing every avenue. This is tough because as a manager, I see more of the hard parts.
Q: What is the most rewarding part of your job?
A: Seeing newcomers in the department learning, developing, and growing in their roles and seeking to advance. I love the people-development part of my job.
And of course at the end of the day, I love getting the money!
Q: How have you excelled in the industry?
A: When I first came into subro, I availed myself of all the learning opportunities available. Education is key. Formally, I earned the CSRP through NASP, and an AIC-M, AIS, and AINS through the Institutes. I am also working towards the CPCU completion. Informally, I sought out chances to partner with and support other departments.
And when you truly love what you are doing, you certainly do the best work and excel at it.
Q: What is one of your greatest professional accomplishments?
A: I am proud to be part of the growth at Erie. We continue to bring in big recoveries across all lines by working hard and refining our efforts. Subrogation is so gratifying. In claims, the money goes OUT, but in subro, the money comes back IN!
Q: What makes a good leader?
A: Intentionally listening- listening with the intent to understand and improve service and the experience for the team. Also, leading by example, authenticity, and genuine enthusiasm for the work. It shows if a leader does not like what they are doing. While enthusiasm is contagious, so is negativity. Joy for the work and the people you work with should be the norm.
Cozen O'Connor thanks Victoria Phillips for this interview and for being a true leader in subrogation, with all that contagious enthusiasm.
Stay tuned for the next post highlighting another prominent subro leader.