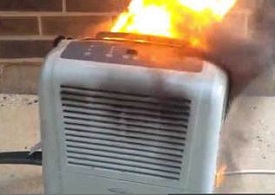 On September 12, 2013, Gree Electric Appliances, Inc. of Zhuhai, China announced the recall of 2.2 million dehumidifiers sold in the United States under ten different brand names. The recall was instituted after the manufacturer received notice of 165 incidents involving their products, including 46 fires, and causing more than $2,000,000 in property damage. The units can overheat, smoke and catch fire, posing fire and burn hazards to owners. The manufacturer has reportedly launched investigations into each of the fires. Gree Electric Appliances reported to BusinessWire.com that their internal investigation indicates that the dehumidifiers overheat as a result of low levels of refrigerant. In some instances, Gree suspects that a compressor overload protector emits sparks inside its plastic cover, potentially causing a fire inside the unit.
Gree manufactured the dehumidifiers under brand names, Danby, De'Longhi, Fedders, Fellini, Fridgerdaire, Gree, Kenmore, Norpole, Premier, SeaBreeze, Soleus Air, and SuperClima. The units were sold at appliance and major retailers throughout the United States and online at Amazon and E-Bay, between January, 2005 and August, 2013. The units are white, beige, gray or black plastic and measure between 19 and 24 inches tall, 13 and 15 inches wide, and 9 and 11 inches deep.
Consumers typically use dehumidifiers in their basements and additional inquiry should be made in basement fire claims about your insured's use of a dehumidifier. If you have a fire loss involving a dehumidifier, you should consult the CPSC Recall Notice for a complete list of make and model numbers to determine if your model is listed on the recall.