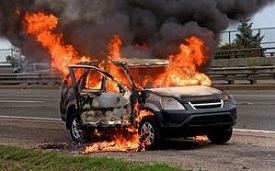 It has been a long, hot summer for Honda and General Motors. In June, Honda recalled roughly 686,000 vehicles sold worldwide. Of the 686,000 vehicles recalled, 143,000 were sold in the United States under the Fit name. The problem with the vehicles, from the 2007-08 model years, involves the master power window switch on the driver's door. According to Honda, "exposure to water and other fluids can cause electrical resistance in the switch, which ultimately can cause the switch to overheat and melt," resulting in a fire. Honda has advised all Fit owners to park their vehicles outside until the window switch can be inspected. Click here for a link to the Honda recall website.
General Motors, which owns a controlling stake in Honda, expanded an existing recall this summer as well. Last August, GM recalled 249,000 various model sport utility vehicles to address a problem with a circuit board in the driver's side door. This summer, GM added 231,000 more SUVs to the recall. Of the 480,000 vehicles recalled, approximately 443,000 were sold in the United States. The recall indicates "road salt, rain water, and other liquids can get inside the driver's door module," potentially causing a short circuit in a circuit board in the door. The short circuit "may cause overheating," which can melt parts of the door and ignite a fire. The recall applies to the Chevrolet Trailblazer EXT and GMC Envoy XL from the 2006 model year, as well as the Chevrolet Trailblazer, GMC Envoy, Buick Rainier, Saab 9-7X and Isuzu Ascender from the 2006-07 model years. To date, GM has received reports of eleven fires related to the problem with the circuit board.

While summer is coming to a close, subrogation professionals should keep these substantial recalls in mind as they investigate vehicle fires in the coming months.