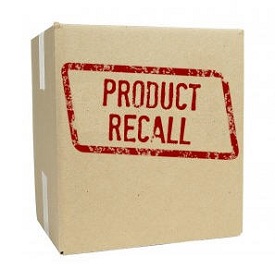 By now most subrogation professionals understand the importance of keeping current with the frequent Consumer Product Safety Commission recall notices.  For this blog post we note the following recent notable recalls for the subrogation professional:
Bosch Security Systems Recalls Fire Control Panels Due to Fire Alarm Failure 
A recall was issued by the United States Consumer Product Safety Commission for the Bosch GV4 Fire Alarm Control Panel. The recall relates to the hazard of the notification appliance circuit module which can cause the panels to fail to activate an audible or visual alarm in the event of a fire. More specifically, the recall involves the G-series Fire Alarm Control Panels that are professionally installed and have model numbers that end in GV4 and use D192G Notification Appliance Circuit (NAC) modules. The NAC module monitors the circuit connections and signals when alarms are not operational. The Bosch name, logo and model number D9412GV4, D7412GV4 or D7212GV4 are on the board of recalled GV4 fire alarm control panels. The control panels and modules are used in residences and commercial facilities and can be mounted inside a variety of enclosures with a minimum size of 16 inches x 16 inches x 3.5 inches, which may or may not be labeled with the Bosch name or logo.
Most of the subject models were sold nationwide from January 2012 to December 2012. Consumers who have a recalled GV4 control panel with a D192G NAC module should contact Bosch or their certified professional installer for a free repair. Bosch Security Systems Inc. may be contacted at (800) 289-0096, from 9 a.m. to 8 p.m. ET Monday through Friday or online at www.boschsecurity.us and click on Customer Care for more information. To date, there have been no reports of any injuries. Bosch has contacted their distributors and installers and sent installers a service bulletin telling them how to correct the problem.
GE Brand Dehumidifiers are Recalled Due to Serious Fire and Burn Hazards 
This recall involves 30, 40, 50, 65-pint dehumidifiers with the GE brand name. The brand name, model number, pint capacity and manufacture date are printed on the nameplate sticker on the back of the dehumidifier. The chart below indicates those that are recalled. The dehumidifiers are light gray plastic and measure between 19 and 23 inches tall, 13 and 15 inches wide, and 9 and 11 inches deep.
There have been 16 reports of incidents with the recalled GE-brand dehumidifiers, including 11 reports of overheating with no property damage beyond the units, and 5 reports of fires beyond the units which were associated with about $430,000 reported in property damage. No injuries have been reported. These items were sold at Sam's Club, Walmart and other stores nationwide and in Canada, and online at Amazon.com and Ebay.com, from April 2008 through December 2011 for between $180 and $270. The manufacturer is Gree Electric Appliances, of China and may be contacted at Gree toll-free at (866) 853-2802 from 8 a.m. to 8 p.m. ET Monday through Friday, and on Saturday from 9 a.m. to 3 p.m. ET, or online atwww.greeusa.com and click on Recall for more information.
System Sensor Recalls Reflected Beam Smoke Detectors Due To Failure to Alert Consumers in a Fire 
Sensor reflected beam smoke detectors were recalled due to hazard when used with certain power supplies. Apparently, when used in this manner, the reflected beam smoke detectors can fail to send a signal to the fire alarm control panel that sounds the alarm and fail to alert occupants of a fire. The recall involves about 610 units with model number BEAM1224S and date codes 2111 through 3053. The YMMW format date codes stand for (2111) 2012-November-1st week of Nov. through (3053) 2013-May-3rd week of May. The detectors are ivory and black and measure 10 inches high by 7½ inches wide. The model number and date code are printed on a label on the back of the detector's cover and on the product's packaging. The reflected beam smoke detectors were used primarily in commercial buildings as part of the fire alarm system. Detectors used with acceptable power supplies, as listed on the company website, do not need to be replaced.
If you own such item you may report it to System Sensor at (800) 736-7672 from 7:30 a.m. through 5 p.m. CT Monday through Friday, or online at www.systemsensor.com and click on Resources, then Product Info Library/Technical Field Bulletins, then Safety Bulletins for more information and a list of acceptable power supplies. No Incidents/Injuries have been reported. Owners with the affected smoke detectors powered by a power supply that is not on the company's acceptable list available online, should contact System Sensor to receive free replacement smoke detectors.
It is important to note these recalls especially when handling product defect matters. In those types of matters, it is beneficial to search the products company website, as well as, the United States Consumer Product Safety Commission website to see if your product is the subject of a recall.