S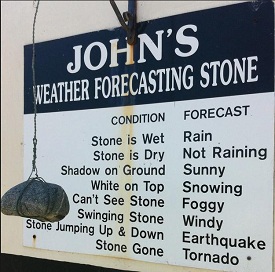 o far the Winter of 2014-15 has spared much of the country from the misery of last winter, but we still have a way to go. As we have just passed the halfway point of the four month season, it's a good time to look at collecting weather data for subrogation claims where weather may be a contributing factor. Whether looking for temperature data, rainfall, snow totals, or hail, the subrogation professional will at some point have to find and interpret data. Subrogation counsel will have the added responsibility to make sure the evidence is admissible at trial if the case is pursued. Before the internet, the task took more time and there were fewer options. While John's Weather Forecasting Stone would not have been the best option, it does have a certain elemental simplicity to it.
Fortunately, when a loss comes in today where weather data is necessary, there are many options to get basic data. As a general rule, you should obtain data from a source that was as close to your site as possible. When necessary, a meteorologist can be retained and relied upon to gather the data. Most cases, however will likely only require the records to examine. Below are some helpful websites that provide weather information:
1. For detailed historic weather information, go to:
Put in the ZIP Code or location you want to inquire about in the space provided and click "search". When you get to the page for that location, scroll down to the "Almanac" section and click on the link for "Almanac for (current date)". When you get to the almanac page, you can select any date going back to 1942. For any given date, you can get precipitation, wind speed (both sustained and gust), temperatures, humidity, averages and record for the date. You can get this data presented in weekly or monthly form as well as by date. The site will generally give you the call sign for the airport from which the weather data is obtained, making it easier to determine just how far from a particular loss site the weather data was obtained.
2. This site provides free temperature data for 7 day periods:
http://weathersource.com/past-weather/weather-history-reports/free?gclid=CN6Jrp_xtMMCFUwV7AodES8A2w
3. If you ever need to track the amount of hail at a given location, this paid service has a minimal cost but can be very helpful.
There are other sites that provide information that can be helpful for investigating a loss. The trial lawyer must be aware, however, that if the case goes to trial, the data is only helpful if admitted as evidence. There are several ways to ensure admissibility. Federal Rule of Evidence 902 (4) for Certified Copies of Public Records can be used for "self-authenticating" in conjunction with records obtained from the National Oceanic and Atmospheric Administration or other recorded or official records. The NOAA has a website with information on how to obtain certified weather data and the costs. If using an expert, and the records are not official or public records, he can testify how he obtained the records and lay the proper foundation. Technically, the records themselves are hearsay and must satisfy a level of trustworthiness to be admitted at trial. If the records themselves aren't admissible, he may still be able to give an opinion under Federal Rule of Evidence 703 if an expert in his field would reasonably rely on this type of data in forming an opinion. The safest course is self-authentication as the records are admissible without any testimony to lay the foundation.
As with many things in life, the internet has made gathering information easier but making sure it is reliable and can be used at trial is still an issue.