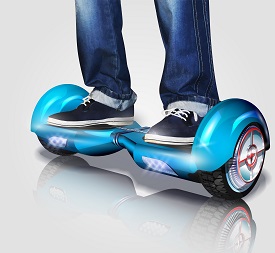 On July 6, 2016, the Consumer Product Safety Commission (CPSC) issued a recall for more than 500,000 hoverboards due to fire hazards. The recall involves ten manufacturers, retailers, online retailers and/or US importers, with over half involving the popular Swagway model. The basis for the recall is: "The lithium-ion battery packs in the self-balancing scooters/hoverboards can overheat, posing a risk of the products smoking, catching fire and/or exploding." According to the CPSC's recall, there have been 99 incidents of fire, with some involving personal injury and property damage.
The recall warns consumers and users to "immediately stop using these recalled products and contact the recalling company to return their hoverboard for a full refund, a free repair or a free replacement depending on the model." This warning, when combined with news reports of fires from hoverboards, also presents a challenge to recovery professionals handling new claims involving these models. Inevitably, as more time passes from the recall, and more news of hoverboard fires gets circulated in the media, the parties to this recall will start to have a defense that insureds and users should have stopped using the devices altogether due to known hazards. While there are of course counter arguments to be made in response to such a defense of comparative fault, which would vary by jurisdiction, this is certainly a point all insurance claim professionals, recovery personnel and subrogation counsel need to explore with their insureds as more time passes.
Another interesting piece of information included in this recall is a Note at the end which provides:
At the request of the Commission, Alibaba Group has taken voluntary action to require certifications from testing agencies for hoverboards listed by third-parties on the AliExpress.com and Alibaba.com online marketplaces. Consumers are urged to immediately stop using hoverboards which do not comply with applicable safety standards and dispose of them in accordance with local and state regulations.
This Note goes beyond standard recall language and shows the CPSC is actively engaging online retailers to protect consumers, which may signal a new trend of the CPSC taking greater action to address defective products in the global marketplace, especially since Alibaba is a Chinese e-commerce group with online marketplaces where products are sold to US consumers. The notion of third-party testing agencies for products sold through online marketplaces is also a sign that perhaps new obligations may start to be imposed on online marketplaces and hosting sites to ensure products sold online are tested and certified to applicable safety standards.
The following is a link to the CPSC's full recall, which also contains a useful chart by recall company which links to each company's individual recall: http://www.cpsc.gov/en/Recalls/2016/Self-Balancing-Scooters-Hoverboards-Recalled-by-10-Firms/