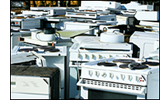 One of the first things to do upon receipt of a new subrogation loss involving a product is to check to see if there are any recalls of that product. Ultimately, if your cause and origin investigator determines the product is the cause of the loss, the recall can greatly strengthen your subrogation case. It provides effective cross-examination of the manufacturer's employees and experts, as well as substantial leverage in settlement discussions.
The United States Consumer Product Safety Commission ("CPSC") regularly advises the public of product recalls and is an excellent resource. Recently, the CPSC issued the following product recalls which may be relevant to future subrogation claims:
On July 30, 2008, Frigidaire announced a voluntary recall of clothes washers due to a fire hazard. An internal defect in the washers' drain pump case overheats and presents a fire hazard. This recall involves several models within the six brands manufactured by Frigidaire which were sold nationwide between February 2009 and May 2009. The Frigidaire brands subject to this recall include Crosley, Frigidaire, Kelvinator, Kenmore, Wascomat and White-Westinghouse.
On July 21, 2009, Fiesta Gas Grills announced a voluntary recall of its Blue Ember grills, which are fueled by propane. These gas grills are manufactured by Unisplendor Corporation and Keesung Corporation, both in China. Fiesta is the national importer. The hose of the gas tank can get too close to the firebox, exposing it to heat and creating a fire hazard. The grills were sold nationwide between November 2006 and June 2007 and in Canada between November 2006 and May 2009.
On August 11, 2009, Griffin International issued a voluntary recall on Wii battery recharge stations. Psyclone Essentials and React Wii 4-dock battery recharge stations are recalled due to a fire hazard. The battery pack can overheat, creating a fire hazard. The battery packs subject to this recall were sold at Target, Toys R Us and on amazon.com from January 2008 to July 2009.