If you are handling or investigating any water losses due to the failure of certain InSinkErator brand F-201 instant hot water filter systems, you may be able to benefit from a class action settlement.
A class action suit, entitled Richard Desio et al v. InSinkErator et al., was brought in the U.S. District Court for the Eastern District of Washington in 2015 against InSinkErator and Emerson Electric Company, alleging that its F-201 filters could crack and leak due to defects in the product. A settlement has been reached that affects anyone that owned or leased a structure with an F-201R filter cartridge manufactured from 2001 through January 31, 2011. Subrogating property insurers are also members of the class if their insured experienced, or experiences, property damage caused by the failure of an F-201R filter cartridge between January 22, 2018 and September 30, 2020. You are not included in the class action settlement if (1) the property damage occurred on or before January 22, 2018, (2) you previously initiated legal proceedings for claims arising out of an alleged defective filter cartridge before January 22, 2018, or (3) timely opted out of the class action benefits.
The amount of the cash award will be equivalent to the below percentage based on the year of manufacture of the F-201R filter cartridge, unless the amount must be adjusted up or down due to the number and types of claims received or to utilize the entire settlement fund: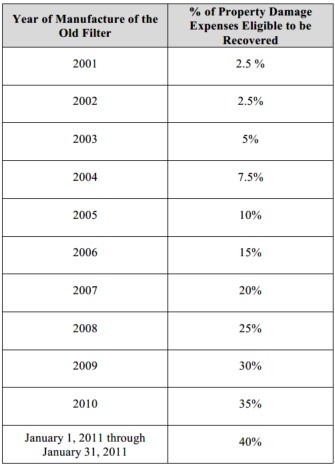 In order to receive any class benefits, you are required to exercise your rights no later than December 31, 2020. Please contact any of Cozen O'Connor's subrogation and recovery attorneys if you have any questions or require assistance in protecting your subrogated interest.